DIII-D Research Opportunities
FY2024 Proposal Submission Instructions
This page provides information for all opportunities to propose experimental studies to be awarded runtime during a DIII-D experimental campaign. This page is regularly updated as new opportunities to propose projects to be performed at DIII-D become available and includes information on the annual Research Opportunity Forum to propose fusion research projects and information for opportunities to propose Frontiers Science projects. 

Research Opportunity Forum Information for FY2024-2025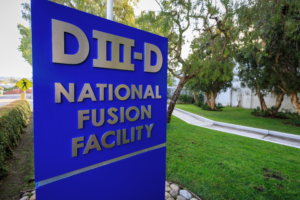 The purpose of the DIII-D Research Opportunity Forum (ROF) is to solicit community input on DIII-D experimental priorities and goals, including via proposals for thrusts and task forces; vet those ideas through the DIII-D Research Council; and then submit experimental proposals to achieve those goals using a new proposal engine directly (for current users) or via a series of forms (non-users). Further details on the new submission process are included below.  
Several new processes have been introduced with the goal of a more continuous experimental planning process that is open to a broader spectrum of people and has a fair and impartial evaluation of proposals. In particular, there are two significant changes: (1) more detailed proposals will be required up front and (2) the scientific and technical merits of proposals will be evaluated using a dual-anonymous review process ahead of ROF group breakout meetings.
Memorandum on DIII-D Research Opportunity Forum process for 2024-2025
Please note that all DIII-D experimental proposals, except those for Frontiers Science, the Torkil Jensen Award, and the Director's Reserve, will be subject to submission through the Proposal Engine, as detailed below.
Call for Proposals
The DIII-D National Fusion Facility is inviting collaboration in its upcoming program. The DIII-D team is a national and international collaboration amongst ~100 institutions. Collaborators manage elements of the program, generate ideas and innovations, lead experiments, build and operate diagnostics and other equipment, analyze data, provide theory and modeling support, and report and publish results worldwide. Opportunities also exist for graduate and undergraduate students to lead experiments. 
The DIII-D program is rapidly driving progress to establish the scientific basis for a fusion power plant and prepare for burning self-heated plasmas in ITER. Research in 2024 will enter an exciting new chapter, with a new modular divertor that allows advanced scenario demonstration at higher triangularity and elongation, the installation of high-field-launch Lower Hybrid Current Drive, and 4 MW of Electron Cyclotron Heating. This will permit new explorations of the Advanced Tokamak concept for a fusion pilot plant, alongside continued high-priority work to resolve stable high-performance discharges for ITER. An emphasis is also placed on development of innovative divertor and pedestal solutions, their underlying science, and the integration of core end edge solutions.
In this work, a strong focus is placed on developing a validated physics understanding of the foundational processes and quantitative predictive simulation capability. This benefits from a comprehensive set of high-resolution 1D, 2D and 3D diagnostics. New systems have been or will be commissioned including 2D Thomson scattering; Lyman-alpha measurements of edge neutral densities at multiple locations; Doppler-free saturation spectroscopy; passive main-ion CER; pellet injection with variable size; and a range of turbulence, energetic particle and profile diagnostic upgrades. A further campaign of Frontiers Science is being considered, for which separate calls will be issued later. 
Submission of N

ew

DIII-D Experimental Proposals
Existing DIII-D users can learn more about the 2024-2025 ROF process and experimental proposal submission here and should submit new proposals for runtime on DIII-D directly via the Proposal Engine.

Otherwise, researchers who are not current DIII-D users with an idea for an experiment on DIII-D should complete the below steps to propose to receive runtime on DIII-D:  
1. Download the proposal template.
2. Complete the proposal. 
3. Fill out this form indicating the machine setup. 
4. Email sharepoint@fusion.gat.com your completed proposal, with the title of the proposal listed in step 3 as the subject of the email. This will allow the proposal to be put into the DIII-D Proposal Engine.
B

ro

ad Overview of the Planning Process and Timeline

 



Aug. 1 – Sep. 14, 2023 – Strategic Workshops for team discussions of major research objectives for DIII-D
Sep. 25, 2023 – ROF Proposal Engine opens
Oct. 2-6, 2023 – DIII-D Research Council meeting to make recommendations on program priorities
Nov. 7, 2023 – Issue Run Time Guidance memo, including announcement of thrusts and task forces
Nov. 10, 2023 – ROF categories finalized
Sep. – Dec. 2023 – ROF proposals (3-5 pages) are written and submitted
Dec. 15, 2023 – Proposal submission deadline to be considered for FY2024
Jan. 15, 2023 – Finish all dual-anonymous reviews of ROF proposals for FY2024
Jan. 19, 2024 – Education Committee recommends Ph.D. student allocations
Jan. 22, 2024 – Feb. 23, 2024 – ROF breakout group sessions
Feb. 26-29, 2024 – Research Division leaders prioritize and finalize experimental lists
Mar. 8, 2024 – All "40 Questions" must have final answers from MP team
Mar. 22, 2024 – Run Coordinator Team makes experimental schedule
Apr. 8-19, 2024 – Mini-proposals for first experiments reviewed by Area, OPS & Final leaders 
Joint Call for Frontier Plasma Science Collaborative Research in 2024
Proposals are currently being invited for Frontiers Science projects to be run in 2024. The DIII-D tokamak, which is both highly flexible and extensively diagnosed, offers researchers a chance to investigate questions that advance scientific understanding and engineering for Frontiers Science. Runtime has been allocated as 8 half-day experiments, but proposals requiring longer runtimes will be considered for a full day of runtime. Proposals associated with a graduate student project may also be eligible for additional runtime outside the 8 half-day experiments currently allotted. Proposals are due on 5 January 2024, and the runtime for Frontiers Science is scheduled to begin in October 2024. 
Detailed information for the Call for Proposals for Frontiers Science can be found here.